Rubber moldings, O-Rings / O-Section molded gaskets, punched gaskets, rubber to metal bondings, sponge / rubber sheeting, extrusion, customer rubber / sponge fabrications.
Products & Quality
From custom O-Rings to collapsible oil reservoirs, the only limitation to our product range is your imagination. We are not stockists of 'off-the shelf' products. The components shown represent a sample of what has been and can be manufactured. To date we have made over 5000 different customer product lines. Butser Rubber have a great deal of experience that can be used to make your product work.
Rubber Mouldings
All of our products are the result of our customer's exact requirements. Whether you require a compression or injection molding, we are happy to quote. Our services are from the drawing board to the production of tooling, through to the final components. Butser manufactures over 4300 different rubber molded product lines.
Examples: Molded bellows, molded body assemblies, molded rubber seals, molded grommets, molded rubber housings.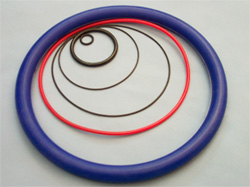 O-Rings and O-Section Gaskets
Custom O-rings and non-standard O-rings to your specification, we can produce O-rings and O-section seals with a cross section of down to 0.5 mm with a .02mm tolerance (with selected materials). We can manufacture non-standard O-rings and seals in a range of materials, colors and shore hardness'. Please feel free to state your requirements. Using our in-house Cryogenic trimming technology and network of laser welding and tool polishers, we can supply seamless O-ring sections for when the seal is critical. Examples: Formula 1 O-section head gaskets, discontinued standard O-rings and specific material O-rings.
Gaskets
Molded, laser cut, water cut, stamped or fabricated, we can supply custom gaskets in a wide range of spec materials, as well as all stocked rubbers, sponges, plastic foams, paper, card, corks and leathers. We can manufacture self-adhesive backed gaskets using a range of glues including 3M transfer films. We are very happy to quote for your gasket needs.
Rubber to Metal Bonding
Whether it is a complex non-conductive HNBR to copper bonding or a simple steel to natural rubber bonding, Butser has the experience, scope and technology to make it work. From one-offs to mass production we use laboratory tested agents and ultrasonic cleaning technology to give your product the best bond possible.
Examples: Anti vibration mounts, engine mounts, rubberized circuit boards, suspension bushes, bonded tires to wheels, bonded rollers.
Sheeting
Butser can supply sponge, silicone, neoprene, neoprene /EPDM sheeting in meter sections or in roll to your requirements. Butser has a selection of sheeting options available. For very high tolerance spec sheeting we can manufacture 12"x12" (300mm x 300mm) sheeting down to 0.008" (0.2mm) to a depth of 0.5" (12mm) from a wide range of materials, specs and colors. Please state whether you require any of the above products with adhesive backing.
Extrusion
H section, P section, square section, silicone, sponge, colored, ribbed or reinforced, we can supply extrusion to your needs. We have a number of standard product lines, but are very happy to talk about custom sections, material specs and die-cuttings. Butser is very keen to supply you with the correct product. We can tailor your section to your needs whether you need: color-matching, heat, flame or steam resistance, food quality grade, tight tolerances or an extrusion that will work in either high and low temperature, please contact us.
Sponge
Molded, sheet, extrusion, stamped, punched or fabricated, we have a lot of experience with this material. Recent investment in new machinery has made sponge seal and gasket cutting one of our most exciting product lines. With the added advantage of PSA (self-adhesive) backed sponge products, customers have been able to use this type of material in a new manner of ways. For example, self-adhesive sponge seals fixed to aircraft, where the seals do not drop out as the lower housings are removed, making them, "A damn sight easier to fit, replace and work with as you don't need three hands". Examples: Sponge window seals, Silicone sponge compression seals, Slow return memory sponge, Protective sponge housings.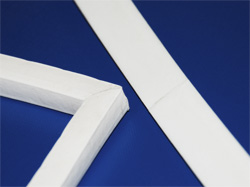 Rubber and Sponge Fabrications
Butser Rubber can supply many custom fabrications for a range of different applications using a number of materials. Fabrications offer great product flexibility with low jig and tooling costs in comparison with injection tooling. Fabrications can provide fast turn around and short lead times on low too medium batch runs and is often used as an alternative to rapid tooling and prototyping. Fabricating extrusion to make compression set seals is one of Butser Rubber's largest and longest running product capabilities. Please enquire if you need your extrusions fabricated into the final component.
Quality
Investment in high quality inspection, testing and computerized MRP and enterprise systems provides a core frame of resources to deliver not only a high quality product but also a quality service.
ISO 9001:2000 accredited with full lot traceability and working to the principles of TS9572.
As a company we strongly rely on the principles of MUDA, FEMA, Deming, 5S, 8D and Pokka Yoke. These are used as a framework to drive quality and continuous improvement through the company and push the business forward.